By: Anushka Goswami and Light Naing
Checking your course syllabus and realizing midterms are right around the corner? It's that dreadful time of year, where midterm season has your calendar filled with one assignment after the other. Between managing your recovery from the inevitable OWeek sickness (we've all been there) and the busy-ness of midterms, we often forget to take a step back and take care of our well-being.
World Mental Health day represents a global commitment to raise awareness of mental health issues around the world, and to mobilize efforts in support of mental health. As an extra reminder of the importance of taking care of your well-being, the University Students' Council hosted our first World Mental Health Day pop-up on Thursday, October 6 in the UCC Atrium.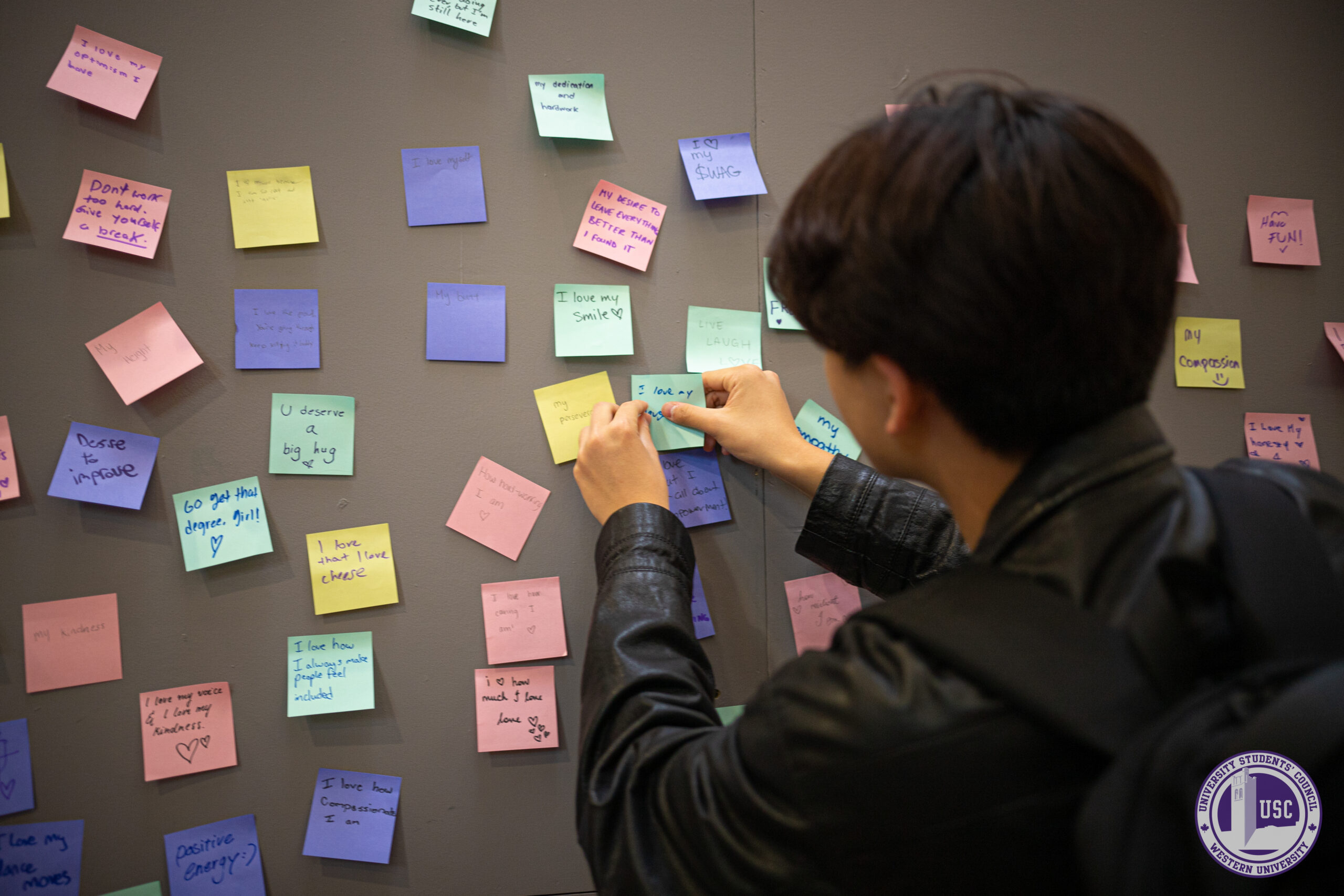 A combination of crafts, resources, and wellness swag giveaways, the campaign was aimed towards highlighting the importance of staying kind to ourselves during tough times. 
Reagan Cockburn, Associate Vice President Communications at the USC, led the development of the World Mental Health Day campaign. Together with the rest of the USC team volunteers, they highlighted the importance of these kinds of events.
"I am grateful to have the opportunity to help run this wellness pop-up with the USC. Mental health awareness is important everyday. Especially on university campuses, I believe it's crucial to provide extra support to the students who need it most," explained Cockburn.  
"If this event can better the day, week, or semester of one student we represent, then I'm proud. I hope this is just the beginning and that more mental wellness events will take place in the future."
Students were greeted at the front of the Atrium with a welcome booth, where USC volunteers gave out free tea bags and stickers to students passing by. 
The welcome booth informed students of World Mental Health Day on October 10, and encouraged them to scan the QR code on the posters for wellness resources available to students on- and off-campus. 
Benji Nova, a local London artist and mindfulness teacher, was also present at the pop-up. Nova set up an easel, creating art doodles with familiar cartoon characters. They provided Western students with the resources to create their own doodles and practice mindfulness through art. 
Next up was the "Wall of Self-Love", where students wrote snippets of what they love about themselves onto a sticky note to put up on the communal wall. USC volunteers handed out free skin-care masks to students and encouraged students to practice self-care as a form of mental and emotional wellness.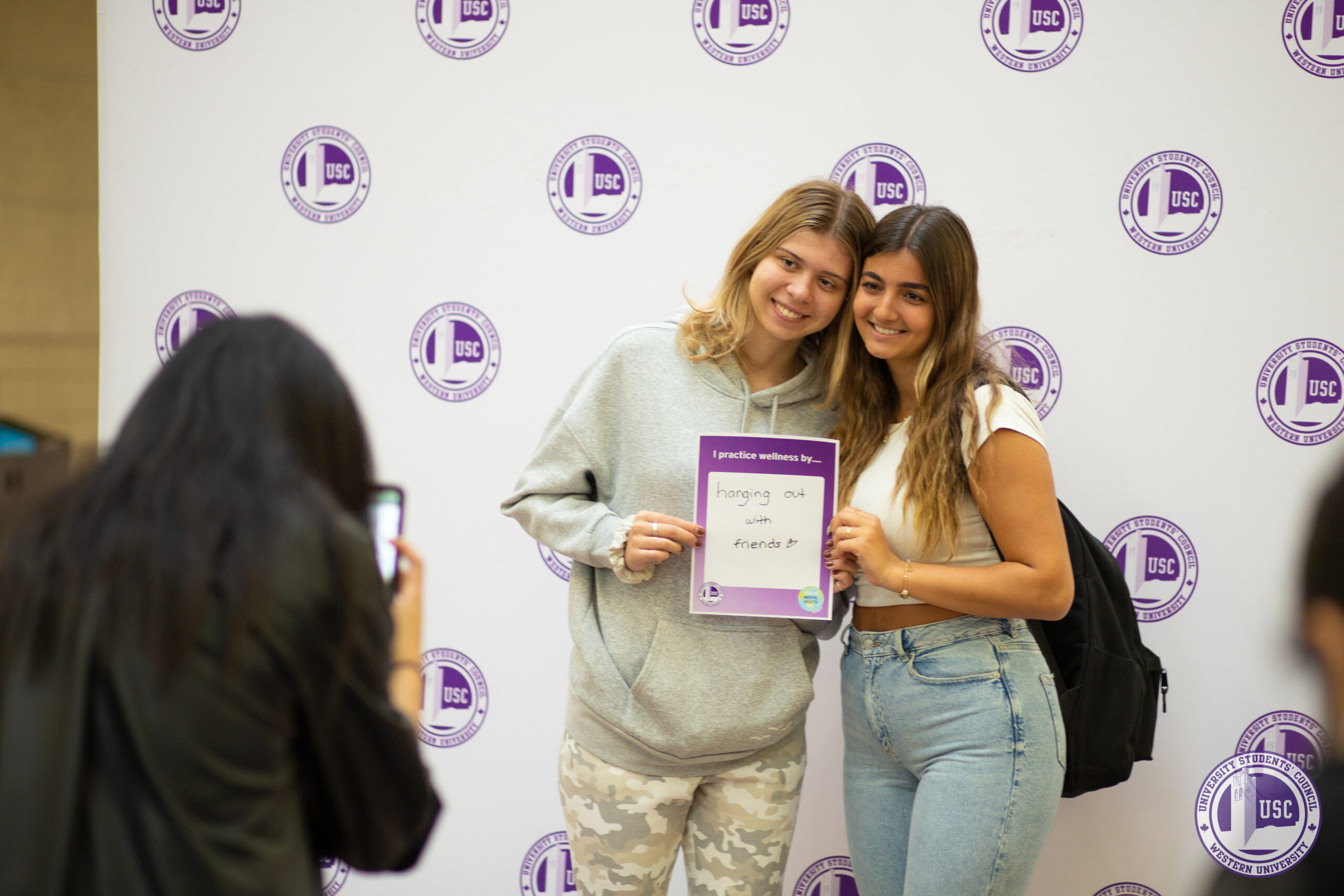 The USC also set-up a photo booth for students. They asked students to fill out posters saying "I practice wellness by…" and take photos with their friends. Students were encouraged to take home free chocolate and candy, and their own poster as an at-home mental health reminder. 
We asked students at World Mental Health Day how they practice mental wellness, and here are some of their answers: 
"Walking to school instead of taking the bus, I feel a walk sometimes really helps me clear my mind." 
"Making coffee at home, it's such a personal moment for me almost like I'm doing this for myself." 
"Calling my mom. After coming to Western I really feel homesick sometimes so I often call and FaceTime home." 
"Spending time with my cat, she's so cute!" 
"Going out with my friends." 
"Just sitting and watching TV." 
And as for your very own Brand Journalism Coordinators? 
"Spending time with my sister and watching anime, it's the best." – Anushka Goswami 
"Watching reruns of Rupaul's Drag Race (Miss Vanjie, Miss Vanjie, Miss Vanjie…)." – Light Naing
At the USC, we strive to ensure that every student has access to the resources they need to support their mental well-being. See below for some of the free resources available to students in our community. 
Monday-Friday: 10:00AM to 4:00PM
University Community Centre (UCC) Lower Level, Room 40
Run by the USC, the Peer Support Centre fosters a safe space for you to express your feelings.They help find resources you can connect to. Drop by the center and talk to a fellow student who's undergone peer-based support training about anything you're feeling.
Monday-Thursday: 9:00AM to 7:00PM, Friday: 9:00AM to 5:00PM
Thames Hall, Room 2170
519-661-3030
The Health and Wellness Centre at Thames Hall provides professional and confidential mental health counseling. Book an appointment on their website, phone, or email for a consultation to develop your personalized mental health care plan.
Monday, Thursday, Friday: 5:00PM to 9:00PM
If you miss office hours for the Health and Wellness service at Thames Hall, the Canadian Mental Health Association (CMHA) provides after-hours counseling. You can set up an appointment by simply emailing them.
Consult registrar.uwo.ca/faculty_academic_counselling.html for faculty and affiliate-specific information
Stressed with schoolwork? Unsure of what your academic and career future holds? Need academic accommodations? Contact your faculty or affiliate counseling portals for an in-person or virtual appointment with a counselor who can help you figure things out and give you support. 
Ontario Hall, Room 3C10
If you live on a Main Campus residence, Residence Counseling offers counseling services on mental health and wellbeing promotion. Send them an email to book an appointment or go to the front offices of your residence to get in touch with counselors.
International & Exchange Student Centre (IESC)
Monday-Friday: 9:00AM to 4:00PM
International & Graduate Affairs Building (IGAB), 2nd Floor
519-661-2111 ext. 89309
Are you an international student with questions about your time at Western? Are you having a hard time transitioning to a new culture, or stressed about anything? The IESC is here to help, providing support on navigating life at Western as an international student. Book an appointment on their website, email, or phone, or go to their drop-in hours to meet with someone who's eager to help.
Available to talk 24/7
Reach Out: 519-433-2023
The Support Line: 519-601-8055
The CMHA Middlesex organization has confidential, non-judgemental support lines for anything you need to talk about. You can call their Reach Out service if you feel you're in a crisis, having thoughts of suicide or grief, or you need to talk to someone about your distress or trauma. The Support Line is more general, and you can call them if you're feeling anxious, depressed, overwhelmed, or if you just need to talk to someone for emotional support.
Available to talk 24/7
866-925-5454
GOOD2TALKON to 686868
Good2Talk provides confidential support to post-secondary students in Ontario for help on anything, big or small. You can talk to a professional counselor by calling their number, or to a crisis responder by messaging them.
University life can often be stressful and extremely busy. We are trying to manage assignments, daily classes, extracurriculars, personal commitments, and so much more. In the businesses of our university life, USC encourages students to remain mindful of their wellbeing and practice mental wellness.