You might have seen them in the UCC Atrium a couple weeks ago for their Hunger Free October campaign. Or maybe you explored the UCC Lower Level and stumbled upon their food bank. That's all the work of Food Support Services, a USC program committed to reducing food insecurity and hunger in the Western community for all students, staff, and faculty members.
Food insecurity is an incredibly important issue, affecting 40% of Canadian post-secondary students, according to a study conducted in 2016. With the rising tuition fees, living costs, and grocery prices, this trend is expected to continue.
"I volunteered for Food Support Services because I wanted to help students access affordable and nutritious food in a supportive and inclusive environment," says Balqees Al-Badri, a Food Support Services volunteer. "Many students struggle to afford food, especially with the rising cost of housing and tuition, and having support in accessing food can hopefully ease some of the burdens."
One of Food Support Services' many services is the on-campus food bank. Anyone from the Western community can drop by to get items such as frozen meals, non-perishable foods, snacks, juice packs, and toiletries. If you think you need it, they probably have it.
The food bank is open the entire school year, Monday-Friday from 10:00 AM to 3:00 PM, and Wednesdays until 5:00 PM. It's located in UCC 40F, in the basement of the UCC. 
But wait, that's not all. Food Support Services also provides a one-of-a-kind service, the Confidential Hampers. Anyone from the Western community can fill out a hamper request form available on their website and select options for food items and essentials they need. Within 72 hours, a member of the team will fill up the hamper and you'll have the option to either pick it up at the food bank or from a locker located within the UCC. 
"Each academic year, more and more students use Food Support Services," says Jenna Lam, Food Support Services Coordinator. "During the first 3 weeks we've been open this year, we've had 135 student walk-ins at the Community Pantry and 112 Confidential Hampers filled. Last year, they had only had about 84 walk-ins and 57 hampers filled during the same time. That's about a two-time increase in [requests for] our services since last year."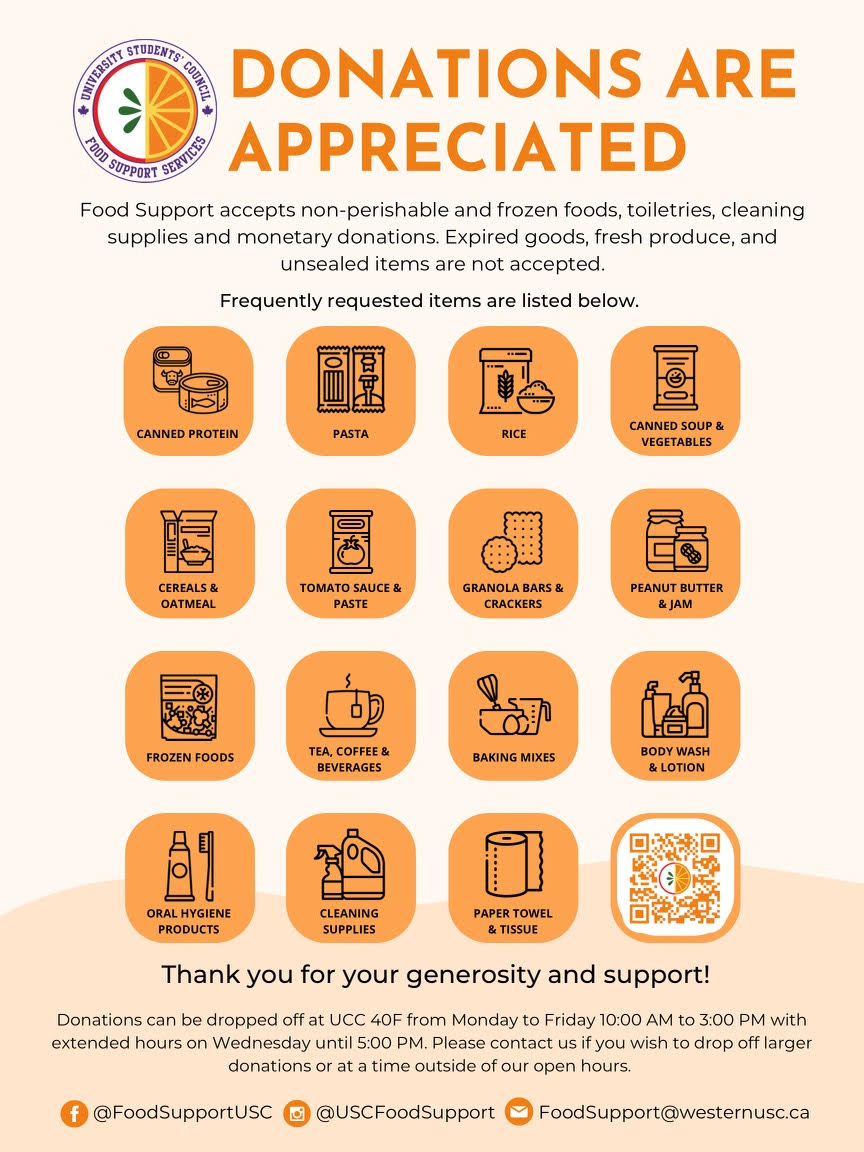 Want to contribute to this initiative? As members of the Western community, we can help support continued access to Food Support Services. Donations are always welcome and appreciated. Here's a list of most requested donation items:
Money 

This is the most impactful, as it allows the food bank to purchase the most-needed items at any given time. 

Feminine hygiene products

Pads, tampons, menstrual cups, condoms, etc. 

Snacks 

Granola bars, applesauce, crackers, pudding, candy, chips, etc.

Canned meats, fish, fruits, and vegetables

Spreads, especially peanut butter

Cereal, oats, rice, dry pasta
"It's really important to break the stigma around food insecurity and accessing support services, while spreading awareness about local and global issues of food insecurity affecting our communities," says Al-Badri, "The existence of Food Support Services helps to ensure that."
To learn more about how to access their services or how to donate to the program, follow Food Support Services on Instagram at @uscfoodsupport and on Facebook at USC Food Support Services. If you have any questions, concerns, or feedback, send an email to the team at [email protected].