By Light Naing 
Thinking about applying to be an Associate Vice President? Don't worry, USC Voice's got your back! We're super excited to bring you this series of AVP profiles that will hopefully inspire you even more to #replaceus. For all five of the current portfolios, we'll also be assigning some personality types to give you a sense of what kind of people may be the most suitable for the roles.
Do you want to contribute to advocacy efforts within the Western community? Or maybe encourage dialogue between students about issues we face on campus? If you answered "Yes", you'd be a perfect fit for the University Affairs team! 
The University Affairs (UA) portfolio is responsible for representing the interests of all undergraduate students at Western University. The three AVPs this year are Madison Milanczak (AVP Student Experience), Lexi Magder (AVP Wellness Equity), and Vanessa Leung (AVP Academic). AVPs conduct research, draft and review policy for the USC's advocacy priorities, and assist in coordinating advocacy initiatives. They were more than happy to tell you more about their experiences!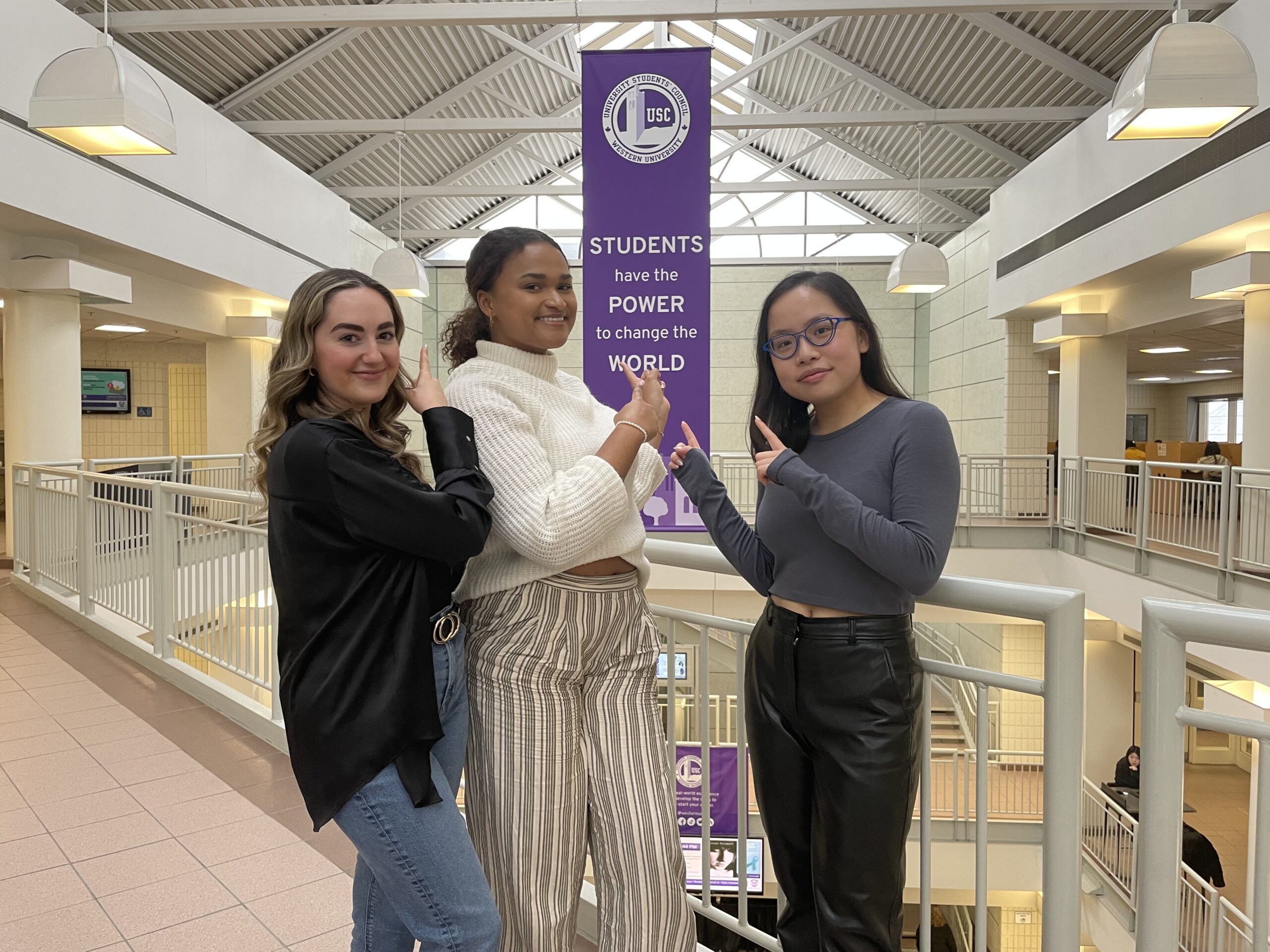 After her roles as VP Student Affairs and Councillor for the Huron Students' Council, Lexi "fell in love with what the USC was doing" and wanted to bring her passion for mental health and menstrual equity to her role. Madison was also a USC Councillor, representing the Social Science Students' Council and applied to the UA team to try to enhance the student experience and advocate for students. For Vanessa, her experience with academic policy and research came from her time as the Director of Research for Western Student Senators, and her experience as Deputy Speaker for the USC brought her to this role.
If it isn't obvious already, the UA team deals with a lot of policy and research. For example, Madison is working on a Student Financial Aid policy paper, while Lexi and Vanessa are working on an policy papers focused on students with disabilities.
However, Vanessa says that "there is also a programming aspect to the role that gets overlooked." Her proudest accomplishment in the role has been the Career Summit, a new initiative that offered career development resources to students. She also worked with the Comms team to produce a Goose Talk on academic offenses. (Side note: If you haven't watched it yet, what are you waiting for? Go to the USC's Instagram page and take a look!)
Madison and Lexi also help out their coordinators with events that promote discussions on equity, anti-racism, sexual wellness, and accessibility. They sit on subcommittees and conduct consultations, such as the Mental Health Roundtable. Madison is also working with the AVP Peer Programs, Cheryl, to establish an Equity Advocacy Committee to "better support student leaders and organizations on campus." Vanessa is also on the Academic Integrity Task Force, which, believe it or not, is a real thing!
Because the roles require listening to student feedback and participating in important discussions, Lexi says that "empathy and compassion are important qualities to have for the portfolio." Madison and Vanessa also believe that research and problem solving skills are really important to the role. "You don't need to have done formal research or anything like that, but having the ability to dive deep into a topic that's important and that you're interested in is really helpful!" says Madison. 
When asked what their favorite part about being an AVP for the University Affairs portfolio was, all three of them agreed that it was the opportunity to work with people who share similar interests. While Vanessa was greatly involved in USC clubs, she thinks that the AVP and Coordinator roles are the most impactful roles you can have on campus. "You won't find a similar opportunity on campus where you can have an impact on the entire student body of 30,000 individuals and work with like-minded people who have the same passions as you," says Vanessa.
And being passionate about student issues is really what determines your success in the role. Lexi says that bringing your ideas and your perspectives is what will set you apart from other candidates. "Within your role, try new things and bring ideas that are going to be fun and impactful. Don't be afraid!" says Lexi. 
Maddy agrees with Lexi too: "Be yourself on your application! Talk about what you're passionate about, but be open to new experiences as well! For example, when I started the Financial Aid policy paper, I didn't necessarily have a large passion for it, but I was able to find parallels between that and my passion for equity and come up with something that I'm really proud of."
"All three of us had something we were passionate about, whether that be equity, academic support, or wellness," says Lexi. "And we brought that into this portfolio specifically to advocate for these issues, listen to feedback from students, and act as a voice for them. Know that your ideas are always valuable and let us know about them!"
If you would like to speak with Madison, Lexi, or Vanessa about their positions, you can request a 'coffee chat' with them here! Applications for Associate Vice Presidents and Coordinators close on Monday, March 27th at 11:59pm. Apply to become the next AVP University Affairs!