By Light Naing 
Thinking about applying to be an Associate Vice President? Don't worry, USC Voice's got your back! We're super excited to bring you this series of AVP profiles that will hopefully inspire you even more to #replaceus. For all five of the current portfolios, we'll also be assigning some personality types to give you a sense of what kind of people may be the most suitable for the roles. 
Disclaimer: we didn't intend for this article to be a love letter to Jessica Look, our VP External Affairs, but as you will read later on, it kind of became one. 
The External Affairs portfolio and its three AVPs this year is responsible for external advocacy. AVPs conduct research, draft and review policy for the USC's advocacy priorities, and assist in coordinating advocacy initiatives. This role is focused on the work being done municipally, provincially and federally. Next year, this portfolio will have one AVP External Affairs and two External Affairs Coordinators. 
The self-proclaimed "Jessica Look Stans" this year include Sara-Emilie Clark, Rohan Singh, and Ann Lei, who all hold the title of AVP External Affairs. Together, they make up the tEAm (clever, ain't it?)!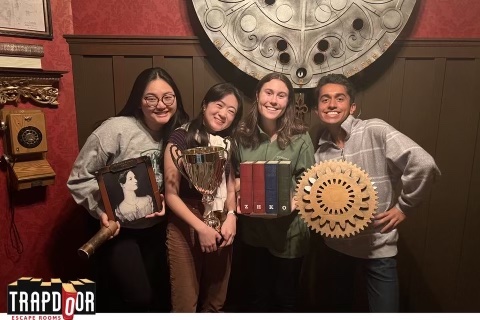 After being a USC Councillor, Sara-Emilie wanted to get a feel for what the USC did in a different capacity, and wanted to work for Jess because she admired her as a student leader, which led her to apply for the AVP EA role. While it was not in her comfort zone at the time, Ann also applied for the role because she saw Jess as a role model after working with her on the Social Science Students' Council. For Rohan, working as an Orientation Staff and wanting to learn what a VP External Affairs does on a day-to-day basis inspired him to apply for his role. What really confirmed his interest in the portfolio was, surprise surprise, the opportunity to work with Jess after sophing together. Do you believe me now when I say this is quite literally a love letter to Jessica Look?
The External Affairs portfolio, as the name suggests, deals with external advocacy on the three main levels: municipal, provincial, and federal. What this means is a lot of policies, campaigns, and speaking, but there's actually a lot of room for creativity in that.
"For our municipal advocacy efforts, we hosted an event called 'Pints and Politics' which I'm really proud of. We had the city councillors come and speak on a panel to get students to vote on the municipal election, which was really fun and not something you would think of when you think of the EA portfolio," says Ann. 
Sara-Emilie asserts this too and says that there's a lot of autonomy in their workloads. "Jess gives us a lot of trust and faith in our abilities, which we really appreciate. She's also very attentive to our specific interests and tries to curate our workloads so they reflect our interests."
For example, all three AVPs have authored policy papers for the Ontario Undergraduate Student Alliance (OUSA) on the provincial level. Sara-Emilie was specifically assigned the 2SLGBTQIA+ policy paper for OUSA, which she calls "the gay paper" (we love that). "Jess knew I was really passionate about it so she asked me to take over. While it was a lot of work, it was really satisfying to get to defend it at OUSA's plenary!" says Sara-Emilie.
The tEAm is also responsible for organizing Local Advocacy Week, Provincial Advocacy Week, and Federal Lobby Week. Aside from that, they also organize the Women in House program, which requires the AVPs to "reach out to people in government at all levels such as the MPs and MPPs to see if they would be willing to let students shadow them during the program," says Sara-Emilie.
Ann believes that External Affairs is a really unique portfolio to be a part of because "other organizations on campus like faculty councils don't really have the resources to do external-facing advocacy, but the USC does." The EA portfolio offers you the opportunity to have discussions on your experiences, not just as students, but also as people, says Sara-Emilie.
All three AVPs agreed that the best part of their jobs was the ability to grow and learn from each other. "I assumed that because I didn't have a Social Science background, I wouldn't be successful in the role," says Rohan. "But that's not true. Being in this role, I've now realized that there are so many opportunities to learn things like policy writing and understanding the levels of government, and I'm SO blessed that I have such an amazing team who can help me out when I'm lost."
Rohan also believes that a lot of students may be worried about the skillsets they need to enter the role. "Honestly, the only skill you need is ambition and drive for the role itself. As long as you have an interest and passion in what you're doing, you'll be fine."
Ann agrees with this too, saying that having the willingness to learn is the most important. "No matter how much experience you have with policy writing," says Ann, "there's still going to be a learning curve regardless. But if you're willing to take instruction and feedback and learn from those around you, that's all that matters."
So, if you're interested in Jessica L- I mean, external advocacy, what are you waiting for? Just apply! "Throw your hat in the ring!" says Ann, "Don't be afraid to reach out to people who have previously held the role because everyone is willing to talk to you. Get over the hump where you feel like you don't have the experience, knowledge, or capability to do it. We went through the same thing and came out learning so much, experiencing something very unique, and with new friends!"
If you would like to speak with Sara-Emilie, Rohan, or Ann about their positions, you can request a "coffee chat" with them here! Applications for Associate Vice Presidents and Coordinators close on Monday, March 27th at 11:59pm. Apply to become the next AVP External Affairs!