Thinking about applying to be an Associate Vice President? Don't worry, USC Voice's got your back! We're super excited to bring you this series of AVP profiles that will hopefully inspire you even more to #replaceus. For all five of the current portfolios, we'll also be assigning some personality types to give you a sense of what kind of people may be the most suitable for the roles. 
If you've ever taken a trip to the Peer Support Centre or bought a ticket to the legendary Taylor Swift Dance party and wondered, "Wow, I'd love to be a part of this," well, here's your chance! The Student Support & Programming (SSP) portfolio is made up of four AVPs and twelve Coordinators this year. The team supports the development and implementation of Orientation and all event-based programming in the programming portfolio. This includes supporting equity-based programming and executing high-level projects. Next year, the portfolio's programs will be reorganized into the Orientation and Programming portfolio and the Student Services portfolio. 
The four AVPs this year are Cheryl Xing (AVP Peer Programs), Raha Nemati (AVP Programming), Nika Bajaj (AVP Student Events), and Saara Vahtola (AVP Peer Support) who were all willing to tell you about their roles!
After working as a graphic design intern for the USC, Cheryl got a glimpse into all the portfolios and decided to apply for the AVP Programming role. Raha had been involved in programming initiatives since high school and joined the USC after she was inspired by an AVP while she was an executive for TheatreUSC. Nika had also been involved in the USC throughout her time at Western and wanted to be more involved with reaching students in her role. Meanwhile, Saara was referred to the position by a friend and felt that the role really spoke to her.
True to its name, the Student Support & Programming portfolio is all about support. Raha oversees the work of five Coordinators—EnviroUSC, TheatreUSC, Charity, Public Arts Commission, and Early Outreach—and provides support whenever they need it. "We make sure that our smaller-scale events targeted to different groups and interests run seamlessly," says Raha. "I work with diverse coordinators with very different roles, and I get to support them in their initiatives that, in turn, support students."
Saara oversees the Peer Support Centre located in UCC Room 40, where students can get wellness support from student volunteers. "I support my Coordinator and Executives in executing events they want to hold, and they support me by taking over when I feel overwhelmed," says Saara.
Saara is very proud of what the Peer Support Centre has done this year. "We've been focused on outreach this year and we had a lot more visitors to the centre!" says Saara. "We're also in the midst of creating a sensory room this year, which will help a lot of students with ADHD, ASDs, and other sensory disorders. On campus, not everyone has access to resources and seeking help is the hardest thing for someone to do. In this role, I got to find new ways to engage help and encourage people to seek help, which is really cool."
While the Peer Support Centre supports students' general wellness, the two Peer Programs that Cheryl oversees—Ethnocultural Support Services and PrideUSC—offer support and a sense of community to students' lived experiences. "I act as the bridge between the VP SSP and my Coordinators. They are responsible for their own programming and I act in a more supportive role. If they have questions about venues or budgets, or if they want a brainstorming session, I help them out."
Nika believes that the SSP portfolio is unique because it allows them to "make changes students want immediately as opposed to doing it through policy, which takes a longer time." Nika's role gives her the opportunity to come up with ideas for students to have fun and safe experiences on campus. "From the Taylor Swift dance party and After Hours at the Wave to Team USC, I get to come up with innovative initiatives we can do to attract students to what the USC does, both the fun and the more serious sides of the USC." 
Cheryl agrees with Nika that innovation and creativity are useful skills for their roles because there's a lot of room for them to execute their own ideas. "I think my role's a lot more independent than I expected," says Cheryl. "It's up to me to reach out to other people I want to work with and come up with new events that haven't happened before."
Saara believes that for her role, it's important to have compassion. "Overseeing a wellness centre means you have to understand the stories of every person who walks through the door. You need to recognize the diversity of needs and be able to connect them to the available resources."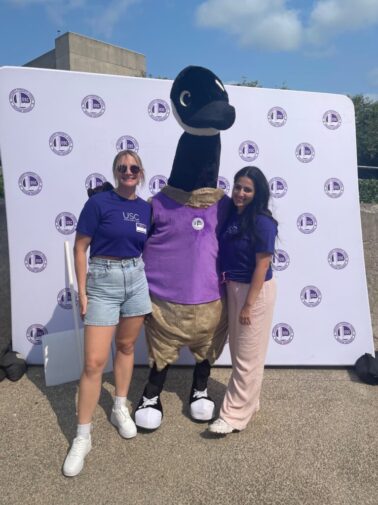 Ultimately, even if you don't believe you have what it takes for the roles, Raha says that we're all students and there are a lot of opportunities for us to learn. "You're surrounded by peers who are in the same boat," says Raha. "Everyone is a student and everyone is still learning new things, and the people in the USC are more than happy to help you learn what you need to know."
Nika believes that "the right experience" for most USC positions including hers comes from your lived experiences as a student, not your professional qualifications. "A lot of the role is looking at the gaps in the Western student experience and how the USC can help. Your value truly comes from your experiences as a student and the ideas you have to improve your experiences," says Nika.
Raha also thinks that a lot of students are intimidated to get involved, but once you are, it ends up being a great experience. "If you have ideas to improve the student experience that you're really committed to and passionate about, there's always a place at the USC for you."
If you would like to speak with Cheryl, Saara, Raha, or Nika about their positions, you can request a "coffee chat" with them here! Applications for Associate Vice Presidents and Coordinators close on Monday, March 27th at 11:59pm. Apply to become the next AVP Orientation and Programming!