By Jiya Sahni
While International Women's Day has passed, conversations on women's equality must continue to take place everyday.
At the USC, it is evident that women's empowerment is a priority before, during and after March 8. Women in House is a USC-led program meant to inspire and encourage women to pursue leadership opportunities, get involved in their community and foster new friendships. As a science student, I never really thought about being in politics or advocacy, but this changed recently when I became more involved within the USC and the Western community. When the Women In House opportunity came up, I immediately applied – and luckily, I was selected.
Women in House intends to bring awareness to the impact of women's representation in political leadership and to hopefully inspire Western women from all faculties to pursue leadership positions on and off campus. For the first time since 2020, Women in House was in-person at Ontario's Provincial Parliament – Queen's Park with 24 delegates. 
During the four day conference, I learnt a lot about the government, and saw firsthand how hard it can be to be a woman in a male-dominated field. Overall, Women In House emphasized the importance of being a voice for those in your community and fighting for the values you believe in. 
While it is impossible to put into words all that Women in House taught me, there are three important lessons that I hope to carry with me in my future leadership roles. In the spirit of uplifting women, I want to share them, so maybe you can do the same! 
"If you can see me, you can be me." 
This quote by the Honourable Charmaine A. Williams – Associate Minister of Women's Social and Economic Opportunity of Ontario and an MPP for Brampton Centre – really resonated with me. If you see a woman or a person of colour within a role of power, you can strive to be them. It becomes a tangible achievement despite the barriers. Hearing this statement come from a woman of colour in multiple high-power positions in the Provincial Government, I could see myself reflected in provincial leadership in ways I previously did not. 
There is no set path to political leadership.
On my first day at Women in House, I had the opportunity to shadow MPP Kusendova-Bashta, who represents Mississauga Centre. She also comes from a science background, and she showed me the intersection between governance, advocacy, and healthcare.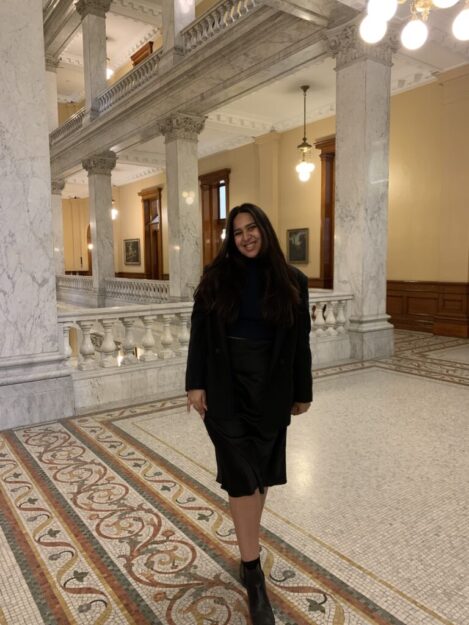 I did not know there could be so much overlap with science and politics, and this really inspired me to use my degree to my advantage. 
Getting to see her advocate on behalf of nurses and for our current healthcare policies with so much experience and passion showed me the importance of having various backgrounds and experiences within our government system.
Women in leadership have to stick together! 
If it weren't for this program, I may never have gotten the chance to meet and learn from so many unique women at Western. Every woman there was welcoming, open-hearted and it was so easy to form a community. Whether it be staying up late just talking, trying new restaurants in downtown Toronto, or simply getting to know someone new at Western, I made so many memories. It's really cool how a program like this one can bring people together.
Lastly, this experience for me was really pivotal to the realization that my science degree is an asset to what I can do within governance and advocacy. Programs such as Women in House allow women to uncover how we can be empowered to make a change in our communities, and how we can work collaboratively to achieve it.